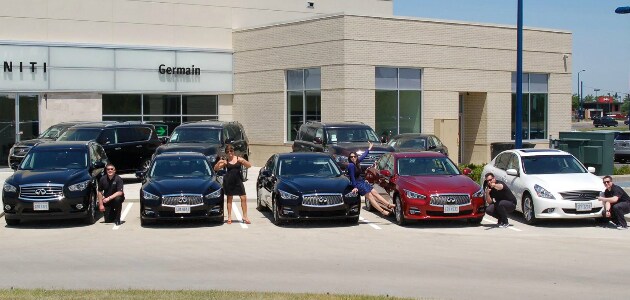 Germain INFINITI of Easton opened on June 3rd, 2013 with "Product Prodigies" Megan, Peter, Kyle, Matt, Steven Sales Manager Eric and Executive Manager, Mark Savage with a
dream
. Our dream was to take the stereotypical car buying experiences of the past (and sometimes present) and bury it out back with the ugly sport coats, horrible ties, and back and forth games of old school salesmen.
And so the recipe for the dream began with the atmosphere. Our showroom feels like a modern art museum, where you can browse all of the INFINITI models in a "boutique like" atmosphere. We threw away all of the Ann Murray and Kenny G CD's and replaced them with our customized Pandora radio station that plays all genres from The Black Keys to Calvin Harris and everything in-between. The giant inflatable purple gorilla on the roof will never exist at INFINITI of Easton. Instead, you are greeted by Rocket, our best friend and mascot. I mean, seriously, who doesn't love an 11 year-old yellow lab sporting an American flag bandana and shades?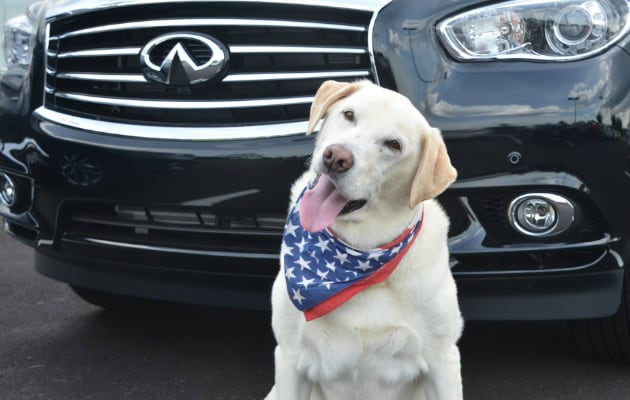 Next ingredient was the "Product Prodigies." What is a Product Prodigy? They are not your typical commission-based, snake oil salesmen. They are non-commission based, salaried product specialists, who provide you with the customized purchase experience that you've always wanted, and most importantly, deserve. Zach Germain recruited his "Dream Team" of Product Prodigies from everywhere but the auto industry. He knew that to be the best they had to start from the ground up sans old school sales habits. Give each Product Prodigy more knowledge about the INFINITI line-up than even the designers know, then let their individual personalities shine as they build a relationship and earn your trust faster than the QX can and VOILA...you've got the recipe for the best car buying experience ever. This out of the box approach has blossomed into something special at Germain INFINITI of Easton. The stats support our efforts as we consistently rank among the top 5 of INFINITI dealers in the country for Customer Service Satisfaction!
So how does all of this relate to you the client? We don't believe in "earning your business." We believe in making you a part of the Germain INFINITI of Easton family. You may have seen one of our family members already. You will recognize them by their sweet Germain INFINITI of Easton wayfarer sunglasses, or when you toast them and their koozie is from our Spring 2014 line of customized Germain INFINITI of Easton can koozies. You can meet your fellow family members at our out of this world parties...we mean "New Owner Events". We really do throw the best parties in town!
But don't just take our word for it. Read what our clients have to say or stop by and experience our no pressure approach to the car shopping experience. Just don't be surprised if you see a new member of the family in one of the Prodigy's offices toasting to their brand new INFINITI...that's how we roll!