What To Look For When Buying A Used Car Or SUV

If you're searching for a used car, it's only natural that you might feel a little overwhelmed. After all, you have so many different vehicles to choose from, available buying options, and other factors to consider when making your decision. INFINITI of Easton understands your dilemma and has created this informative Used Car Buying Guide to help provide you with some tips to simplify the process. Once you're armed with the right information, you'll have nothing but confidence when making your next used car purchase.
| | |
| --- | --- |
| | Reputable Dealership |
Has a certain vehicle already caught your attention? An important first step to take before inquiring about the vehicle is to research the dealership where it's located. A great way to tell if they have a solid reputation is to browse online reviews from other customers. You can also research where they source their inventory (most are sourced from trade-ins locally).
| | |
| --- | --- |
| | Pre-Owned Vehicle Inspection |
If you're shopping at a quality dealership, they don't simply choose any used car to place on the lot. Each pre-owned vehicle is typically required to pass a comprehensive inspection where a factory-trained technician will thoroughly inspect it from top to bottom, front to back, and inside and out. That's the only way to verify that it's safe, in good condition, and of enough quality to be made available for purchase.
Visual – The condition of the vehicle's interior, exterior, mechanical components, tires, lights, and safety components will be carefully inspected visually.
Mechanical – Factory authorized technicians will conduct a rigorous inspection to verify that all mechanical components of the vehicle are working as they should.
Road Test – A road test is necessary to check the ease of starting the vehicle, how well it performs at a range of speeds, along with the overall ride quality.
| | |
| --- | --- |
| | Vehicle History Report |
Included with the purchase of the vast majority of used vehicles is a CARFAX vehicle history report. Within this report you'll be able to learn all about the vehicle's registration history, title information, odometer readings, accident history, service or repair records, and other signs of significant damage such as reports of deployed airbags. Here are a handful of "red flags" and other things to look out for on a vehicle history report.
Frequent Changes of Ownership:
Typically at the top of the CARFAX report you'll find a list of how many different people have owned the vehicle. If the car has changed hands multiple times within a short frame of time, it could be a sign that the vehicle has a complicated repair issue that's difficult to fix.
Emissions Testing Results:
Common in most metropolitan areas, used vehicles are often required to pass a regular emissions test. In many of these same areas, it's prohibited to sell a vehicle which doesn't have a valid emissions test completed. If you see several failed emissions tests on the CARFAX or if it's been well over two years since the vehicle has had one performed, it's recommended that you bring it to a trusted dealer for inspection.
Vehicle Location:
Another commonly overlooked part of vehicle research is investigating where the vehicle has been driven for most of its life. Even if it includes a clean CARFAX record, always inspect the vehicle for potential rust or corrosion issues. Has the vehicle spent time in areas where the roads are salted in the winter? How about near a sandy beach? Make sure to adjust your expectations accordingly. There are even times that CARFAX will flag vehicles that were in areas that have experienced major floods or hurricanes.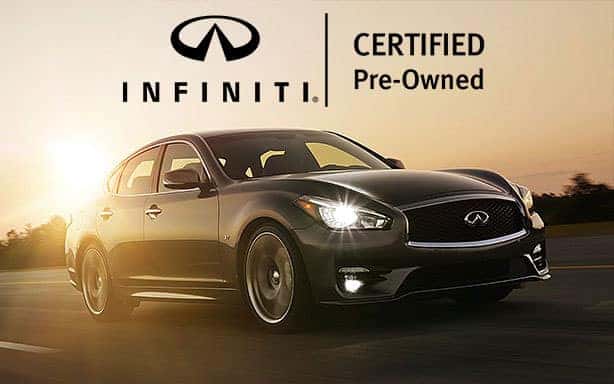 Certified Pre-Owned Vehicles
For even more value and peace of mind, certified pre-owned vehicles come with a variety of additional benefits compared to a regular used model. Choosing an INFINITI Certified Pre-Owned model means that you'll enjoy warranty protection for up to 6 years and unlimited mileage*. Every CPO model is also required to pass an exhaustive 167 point inspection which covers components such as the fuel system, engine, steering, cooling system, transmission, brakes, suspension, climate controls, electrical systems, and so much more. Other advantages of choosing an INFINITI CPO model include special financing rates, complimentary scheduled maintenance the first year, and an enhanced ownership experience. Ask your sales consultant for additional program details.
What To Physically Look For On A Used Car
While most used cars undergo a thorough inspection, there are several areas which you can inspect yourself prior to making your purchase. Many of them are easy to spot and only take a matter of seconds to look over closely.
| | |
| --- | --- |
| | Exterior Inspection |
Exterior – Check the paint finish to see if there's any rust spots, dents, scratches, or other damage.
Trunk – Open the trunk to inspect the inside for signs of water entry which can lead to rust or corrosion.
Tires – Make sure that the tires are in good condition. Check for uneven tire wear, damage, or cracking due to age or dry rot.
Frame – Check the saddle (connects the front fenders and holds the top of the radiator) to inspect the bolt heads at the top of the fenders inside the hood. Scratch marks may be a sign that the fenders have been realigned or replaced following an accident.
Exhaust – Look for holes, rust, or potential leaks in the exhaust system before a test drive.
| | |
| --- | --- |
| | Under the Hood Inspection |
Belts & Hoses – The rubber material of the hoses and belts should be soft. Hard rubber can crack easily and cause significant damage if left unchecked.
Engine Block – Take a look and see if you can notice any leaks on the side of the engine block. Pools or streaks of oil are a common visual indication of a neglected problem with the engine.
Oil – Simply pull the dipstick to inspect the condition of the oil and the oil level. Corrosion or discoloration can be a sign of an engine problem.
Transmission – Just like the oil, pull the transmission dipstick to get an indication of the transmission fluid condition. Pink or red is typically the color of fresh transmission fluid. If it's darker or smells burnt, have a professional take a closer look at the transmission itself.
| | |
| --- | --- |
| | Interior Inspection |
Seating – Check the seats and upholstery for any stains, rips, tears or other damage.
Air Conditioning – Switch on the air conditioning to make sure the system still operates as it should and is blowing cold air.
Odometer – Take a moment to make sure that the odometer reading matches what's listed on the vehicle history report or the vehicle listing at the dealership.
Lights & Electronics – It only takes a matter of seconds to switch on any electrical accessories inside the vehicle such as the radio, interior lights, or backup camera to make sure they are in good working order.