Sneak Peak of INFINITI Electric Cars
Always pushing the boundaries of innovation, the INFINITI brand has become synonymous with cutting-edge technology and thrilling performance. This is the primary motivator behind the brand's commitment to leading the path towards an all-electric future. Recently, INFINITI has announced a number of luxury EVs that are scheduled to make their debut in 2025. INFINITI of Easton wants to give you a sneak peek into the development surrounding the release of these upcoming EVs. Let's begin!
QS Inspiration Concept
Revolutionizing how you view the concept of all-electric transportation, the QS Inspiration Concept defies convention and breaks new ground. Combining quintessential Japanese design elements with modern influences, this dynamic concept ushers in an entirely new era of styling. Since there's no need to provide cooling for a conventional internal combustion engine, the front grille is proudly illuminated with the INFINITI logo and branding script. Inside the cabin, you'll appreciate the warm embrace of its lounge-like interior. Hand-crafted comfort and exotic material highlights include panels of white authentic leather and genuine carbon fiber weave.
"The age of electrification presents us with an opportunity to renew our credentials as an innovative challenger brand." - Mike Colleran, Global Division Vice President, Marketing & Sales Operations, INFINITI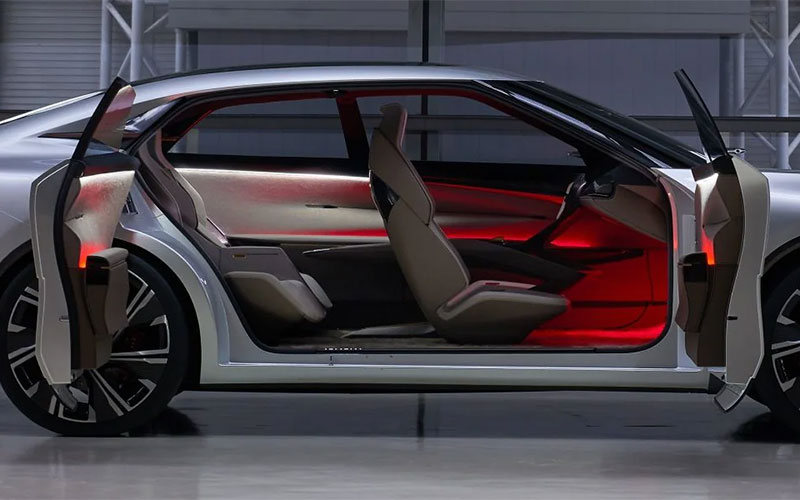 QX Inspiration Concept
Achieving a balance between capability and efficiency, the INFINITI QX Inspiration concept transforms the way you imagine an all-electric luxury crossover. Adhering to the Japanese spacial concept of "Ma", the QX Inspiration maximizes effective space and design. Its unique all-electric platform allows for generous interior dimensions along with a focus on passenger comfort and connectivity. Its signature clamshell doors open to reveal a first-class luxury environment. Handcrafted quilted leather upholstery is found on all seating surfaces, adding to the elegance of the cabin.
"New technology has given us the opportunity to evolve our design philosophy — and the new vehicle communicates the 'serene strength' at our core." - Karim Habib, Executive Design Director, INFINITI