INFINITI Oil Change Service in Columbus, Ohio
Why Is It Important to Change My Oil?
One of the most important ways to ensure your INFINITI continues to provide the reliable performance you've come to expect is to perform regular engine oil changes. The main job of engine oil is to lubricate internal engine components in order to protect them from harmful friction and heat. Safeguard your engine and ensure years of reliable performance by having routine oil maintenance performed at INFINITI of Easton.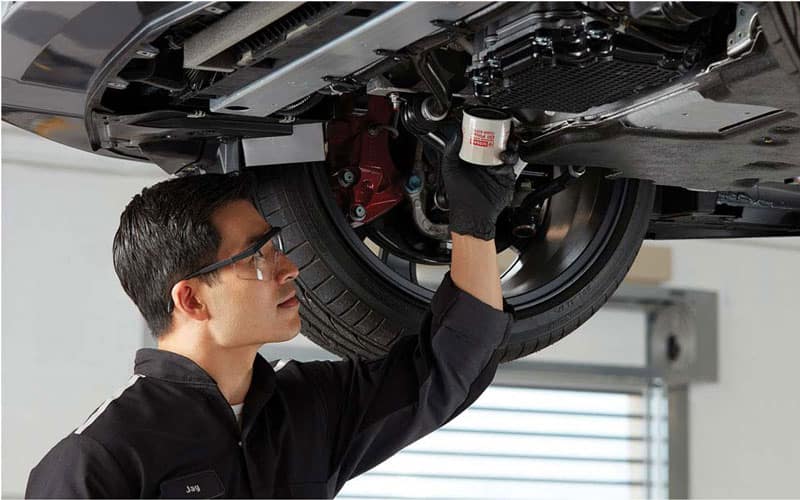 When Is the Right Time to Change My Oil?
While driving habits and conditions certainly vary, you can count on the professionals at INFINITI of Easton to keep your vehicle operating at peak performance. Your owner's manual is considered the best way to learn exactly how often your vehicle's oil needs to be changed. In the manual, you'll find the specific interval that's recommended for your exact INFINITI model. Thanks to breakthroughs in oil technology and in-vehicle oil life monitoring, today's oil change intervals are significantly longer than they have been in the past. Although oil changes are required less frequently, they are still just as important.
On some older INFINITI models, we recommend changing your oil every 5,000 miles or every 6 months, whichever occurs first. Several modern INFINITI vehicles have recommended intervals of 7,500 or even 10,000 miles. Again, we suggest referring to your owner's manual or the oil life monitor inside your vehicle for more information. If you still aren't sure when your oil should be changed, our friendly and knowledgeable INFINITI service advisors will be glad to give you the answer.
---
Tips for Recognizing an Engine Oil-Related Issue
Being able to spot an issue with your oil can prevent serious damage to your engine and save you money in the long run. Below, you can learn about two common indications that there could be a problem with your oil.
Oil Spots Underneath Your Vehicle
Notice a puddle or stain of oil below your vehicle? It's time to let a factory-certified INFINITI technician inspect your vehicle for the cause of this problem. Your valve cover gasket(s), oil pan drain plug, and oil pan gaskets are locations where oil can potentially leak from. It's important to remember that even a tiny oil leak can quickly turn into a massive problem, causing loss of oil pressure and potential damage to your engine.
Oil Warning / Low Oil Pressure Light
If you notice an oil warning or low oil pressure light on your dash, continuing to drive could put your engine at risk for serious damage. A certain amount of oil is required in order to keep your engine properly lubricated and protected from damage. If you see one of these lights, you should stop driving your vehicle as soon as safely possible. Contact the service professionals at INFINITI of Easton for assistance.
---
Why Have Your Oil Changed at INFINITI of Easton?
Our goal at INFINITI of Easton is to help you keep your vehicle running like the day it was new. We use Genuine INFINITI oil filters along with engine oil engineered specifically to meet or exceed the original specifications of your vehicle. Our factory-certified INFINITI technicians understand your vehicle inside and out, better than anyone else. We'll take the time to thoroughly inspect and verify that your engine is in good health and ready for many more years of reliable performance.