INFINITI Service Cost & Pricing at INFINITI of Easton in Columbus, OH
When it comes to servicing your INFINITI, it's only natural that you would demand nothing but the best for your vehicle. That's exactly what you'll receive when you bring your vehicle to INFINITI of Easton for maintenance, service, or repairs. Our factory-trained technicians will give your INFINITI the care and attention it deserves using the most current repair tools and equipment in our state-of-the-art service center.
Relax in our comfortable service lounge equipped with amenities including snacks and premium coffee. Or if you prefer, we have a selection of INFINITI Courtesy Vehicles available to reserve and an available Concierge Service to help you get where you need to be. Below you'll find our service menu which lists some of our most common services in addition to our competitive pricing. You can count on INFINITI of Easton for all of your service or repair needs.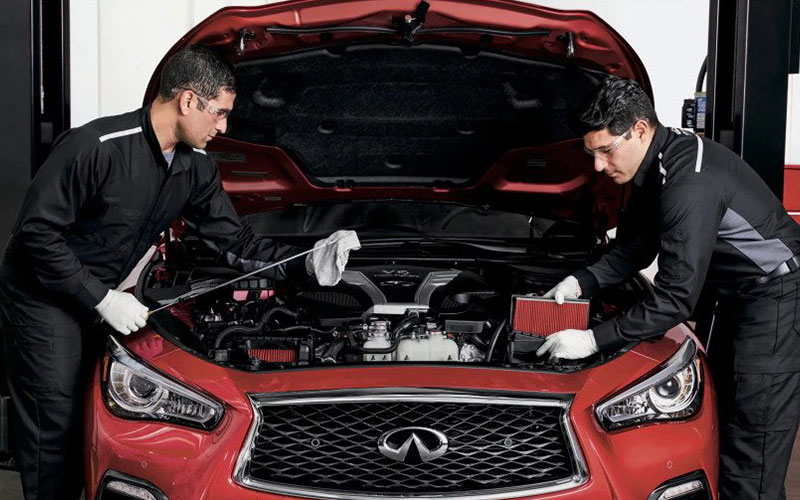 INFINITI Service Menu
Service
Starting At:
Full Synthetic Oil Change (Mobil)
$89.99 (includes multi-point inspection, car wash, tire pressure and fluid check)
Full Synthetic Oil Change (Mobil 1)
$125.00 (includes multi-point inspection, car wash, tire pressure and fluid check)
Mount and Balance Tires
$30.00 Per Tire
Rotate and Balance Tires
$89.95
Balance Tires
$69.95
Four Wheel Alignment
$129.95
Windshield Wiper Blades
$25.00 each
Battery Replacement
Starting At $199.99
Brake Pad Replacement and
Resurface Rotors Service
$433 Per Axle
Brake Pad and Rotor Replacement
$600.00
Brake Fluid Service
$169.95
Transmission Service
$199
CVT Transmission Service
$324.99
Rear Differential Service
$99.99
Front Differential Service
$99.99
Transfer Case Service
$99.99
15,000 Mile Maintenance
(15K, 45K, 75K)
Starting at $489.99
30,000 Mile Maintenance
(30K, 60K, 90K)
Starting at $789.00
105,000 Mile Maintenance
Starting $1,189.00